This is definitely one of my comfort food meals, mainly because my mom made these french dips for us when we were kids, and we always loved them. I didn't really even have to lighten them up to get them under my calorie goal, except Mom always buttered the rolls, but they toasted up just fine with a small bit of olive oil.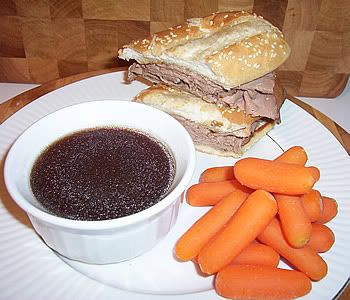 French Dip Sandwiches
8 oz. deli roast beef, sliced thin
2 deli rolls, cut in half lengthwise
4 tsps. mayonnaise
1 tsp. olive oil
1 packet. au jus gravy mix
240 g. carrots, boiled with salt or steamed
In a nonstick pan on medium heat, drizzle the 1/2 tsp. olive oil evenly over the pan. Place the rolls cut-side down in the pan and let them toast until they're a little darker than golden. Meanwhile, in a medium saucepan, prepare the au jus according to package directions, then remove from heat and add th roast beef to the au jus for 15-30 seconds, just to warm it through. Remove the roast beef and let drain on paper towells. When rolls are browned, spread a teaspoon of mayonnaise on each side and layer half the meat on each roll. Serve with 1/4 cup. au jus and half the carrots.
Makes two servings, 494.25 calories per serving.