Happy Birthday Matt!
Today was my little brother's birthday, he turned 23 (sigh, 23 seems so long ago...). I haven't had a lot of time, lately, to go shopping for his regular(ish) gift, which is generally a shirt or jacket, or something, so I decided to do the next best thing - make him his favorite dessert. Matt has always been a cheesecake lover, and my intent was to make him a classic cheesecake with a classic strawberries-in-sauce topping, but I flubbed the topping and had to come up with something else. Luckily, I had saved some cake rounds and cake boxes from a few years back, when I made everyone cheesecakes instead of buying presents for Christmas... ahhh... the good old (money tight) days.
Vanilla Bean CheesecakeCheesecake Filling
:
2 8-oz blocks cream cheese (1600)
3 XL eggs (255)
1/2 c sugar (387)
1/4 c splenda (24)
zest of 1 large, or two small lemons
1 1/2 tsp. vanilla extract
2 vanilla beans, seeded
Graham Cracker Crust
:
1 1/2 c. graham cracker crumbs, 1/2 cup blended into powder, the rest coarsly crushed, about 120g (533.5)
4 TB butter, melted (400)
*You can add 1/2 tsp. ground cinnamon, but I don't.
Preheat your oven to 325° F.
For the crust
:
Spray the inside of a 9" silicone (or springform) pan. Pour in your graham cracker powder and turn the pan on it's side, rotating to cover the walls of the pan with the graham crackers. In a medium bowl, pour out the excess graham cracker powder into the cracker crumbs, and pour in the butter, making sure to mix until the crumbs are well-coated. Sprinkle the crackers evenly over the surface of the prepared pan and press them down (I use the flat bottom of a wine glass) to form a compact crust. The crust will be fairly thin, so if you have to use a few extra crumbs to fill in any gaps, go ahead. Place your crust in the freezer while you prepare the filling.
*If you're someone who loves crust, I'd add another 1/2 cup of crumbs to the mix.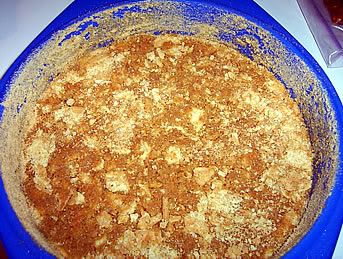 For the filling
:
In a large bowl, beat the cream cheese with a hand mixer until it's smooth. Pour in the eggs, one at a time, and beat again until the mixture is smooth. Add the sugar and, once again, mix until completely smooth. Add the rest of the ingredients and give the mixture one last whirl to combine everything.
Bake in a water bath for about 1 hour (if you're using a springform pan, make sure to use a large, heavy-duty piece of aluminum foil to ensure that the water doesn't get inside your cheesecake), or until the top is slightly golden. Turn off the stove and open the oven door to let the heat out. Let the cheesecake rest for 4-5 hours in the oven, then chill in the fridge for 2-3 hours before serving.
Serves 8, about 400 calories per serving.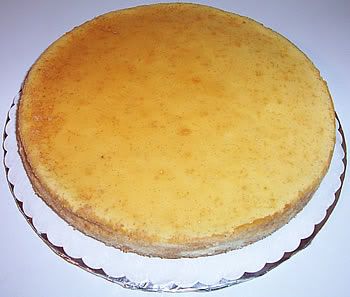 This cheesecake is not... tall. It's only about an inch tall, so if you want your cheesecake to have more height, use an 8" pan instead of a 9", or double the recipe.
Strawberry Peach Coulis
1 pint strawberries, hulled and sliced (114)
1 quart peaches in syrup, not drained (776)
2 TB Splenda (12)
1/2 c. sugar (386)
2 TB honey (128)
1/4 c. vanilla vodka (or 1 TB vanilla extract)
1 vanilla bean, seeded
1/2 lemon, juice and zest (10)
4 TB cornstarch mixed with 4 TB water (122)
In a medium saucepan, combine the strawberries (reserve 1 strawberry for the top of the cheesecake), vanilla vodka and lemon juice and zest; bring to a boil and simmer until the strawberries turn light-pink and get mushy (this was my big flub, I cooked them too long, so I had to fix it, I also added juice from half a GIANORMOUS lemon, so it was far too sour). Add the peaches (making sure to reserve 8 slices for the top of the cheesecake) and syrup, splenda, sugar, honey and vanilla seeds, simmer for another 2 minutes. Remove from heat and sieve the fruit over a medium bowl.
Add the fruit pulp to a blender and blend until smooth. Return the pureed mixture to the sieve and stir until most of the liquid is gone, discard the small amount of pulp and ground seeds that are left over. Add the reserved juice and the pureed mixture back to the pan and stir in the cornstarch slurry. Bring to a simmer, stirring constantly, until the mixture is thick and free of lumps. If you get lumps, return to the (clean) sieve, making sure to strain the mixture and throw out the lumps.
*I made this pretty thick to ensure that it wouldn't run during the drive to deliver the cheesecake, it would taste the same with half the cornstarch.
Pour the mixture in a large bowl and cool over an ice bath.
Makes about 16 1/4-cup servings,
98 calories per serving
.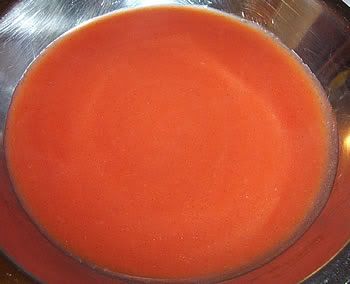 Yeah, so, with the topping, 1 slice is
498 calories
, ouch. I took a pic of a slice with my husband's craptastic camera, I didn't get a decent pic because I was being rushed, heh, so here's the best of the bad pics:
A SLICE
. Good thing Matty's birthday isn't more than once a year. I guess the most important thing is that my brother loved it and had some leftover for tomorrow.