I have a big love for simple dishes, any kind of pasta with vegetables works for me. Tonight, after a loooooong week, I decided to throw another simple pasta dish together. I love using loads of fresh herbs, so I threw in thyme, parsley and chives from my grandma's backyard - the chives were overpowered by the flavor of the peppers, but other than that, this was a deliciously simple dish.
Egg Noodles with Arugula, Peppers, Peas and Herbs
1/2 med. onion, chopped, about 145g. (61)
3 lg. cloves garlic, sliced (9)
1 1/2 tsp. ground cumin (12)
1 TB. olive oil (120)
1/2 recipe
Marinated Bell Peppers
(this batch was roasted and the skin removed)(120)
1 c. frozen or fresh peas peas, about 110 g.(85)
6 oz. egg noodles, prepared and set aside in a large bowl (630)
1 tsp. fresh chopped thyme (1)
1 handful parsley, about 10g.(4)
2 TB. butter (200)
zest of 1 lemon
juice of 1/4 lemon (3)
salt and pepper to taste
1 handful chives, roughly chopped, about 9g. (3)
Saute the onion, cumin, thyme and garlic in the olive oil, add salt and pepper to taste. When the onions are translucent, add the marinated peppers and peas; heat through, then toss in the arugula. Remove the vegetables and toss them with the pasta; throw the butter into the same pan to melt. Remove from head and stir in the parsley, then pour over the noodles and toss with the lemon juice, lemon zest, chives, salt and pepper. Serve warm or at room temperature.
Makes 4 servings, 312 calories per serving.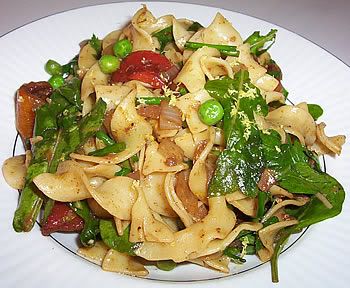 This weekend, I intend on getting my herb garden started. There's also the
Japan Festival
in SLC, so I think we'll try to go for that, too. Man, I love Spring.