This vegetable roast marked a couple of firsts for me - my first taste of fresh fennel and of celery root. I love carrots and parsnips, but I had ambitiously purchased a lovely organic fennel bulb and celery root that I was dying to try, yet had no idea how to prepare. I searched online for recipes, most of which were soup recipes, or gratin recipes that called for heavy cream. I really just wanted to taste the purity of each vegetable, so I went ahead and tried them raw (yay celery root, boo fennel - a lil strong for me) and decided to roast them, hoping it would turn out. Obviously, this would be must tastier with 3 times as much oil and a good bit of Parmigiano Reggiano, but my reality being what it is, this was good, tasty, and low cal.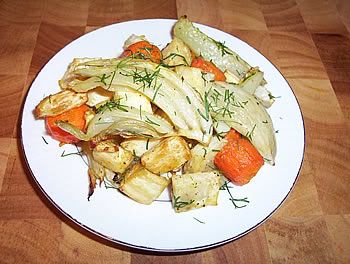 Roasted Celery Root, Parsnip, Carrot and Fennel
1 sm. Celery Root (80)
1 med. Parsnip (59)
3 med. Carrots (106)
1 med. Fennel bulb (84)
1 TB + 1 tsp. olive oil (160)
salt and pepper to taste
Preheat oven to 350 degrees.
Peel and cut root vegetables into 1/2-inch pieces. Remove the top portion (making sure to reserve enough fronds to garnish) and the tough outer layer of the fennel bulb; cut into 1/4-inch wedges.
Toss the root vegetables on a cookie sheet with 1 tablespoon olive oil and season with salt and pepper. Bake for 15 minutes. Remove the cookie sheet and toss the fennel in with the root vegetables and 1 tsp. olive oil. Continue baking for 45 minutes, or until the vegetables are golden and tender. Toss with chopped fennel fronds and serve while warm.
Makes 4 servings,
122.25 calories per serving
.