At some point, my father-in-law lived in Taiwan. We joke that my husband was "made" in Taiwan, which is so un-pc, but back to the point. This recipe is a very slightly altered version of my father-in-law's, we add more ginger to the meat mixture and more vinegar to the dipping sauce. This has to be our favorite meal, there's just something about the ginger and vinegar sauce that work so well together.
Yes, I took a lot of pictures, and yes, I posted a lot of pictures, but I deleted a lot, too, so this is compromise.
Gyoza
1.5 pounds ground pork
2 heads napa cabbage, outer leaves removed and set aside for steaming
1 LARGE piece fresh ginger, grated fine, about 2 Tbsps.
1 bunch scallions, sliced thin
2 tsp. sesame oil
2 tsp. soy sauce
1 extra-large egg white
(2) 60 ct. packages round wonton wrappers
Chop cabbage fine, sprinkle with coarse salt, let sit for 20 minutes then squeeze out as much water as you can.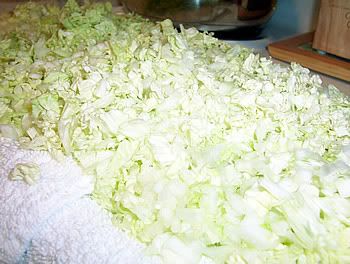 Combine all ingredients together in a large bowl.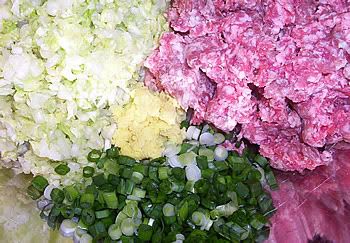 Place 1 1/2 teapoons in the center of each pot sticker wrapper and use your finger to put water around the edge.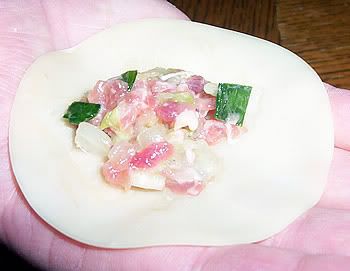 Fold wrapper in half, making sure to sqeeze out the air and seal/crimp the edges.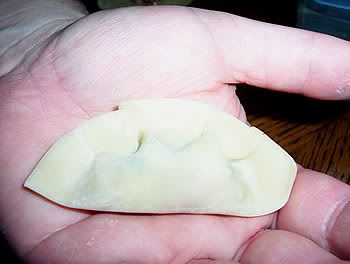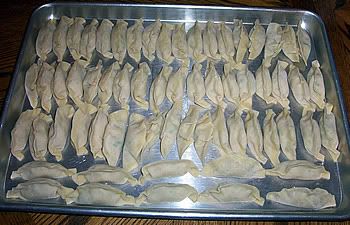 Set bamboo steamers (with lid on) on top of a large pot of boiling water, let sit for 5-10 minutes. Place a couple of cabbage leaves on each steamer and place your gyoza on top. Replace steamer baskets and lid, let steam for 8 minutes. Serve with Gyoza Sauce and
Ham Fried Rice
.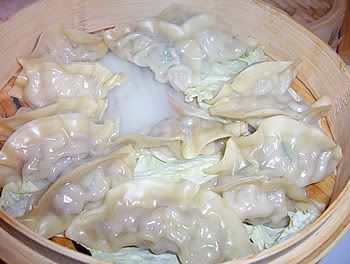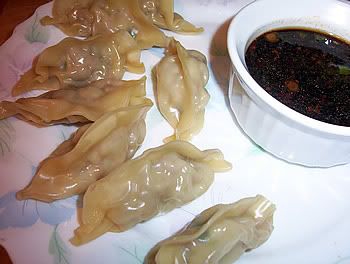 Makes 117 Gyoza, each is 30 calories. Serve 8-10 with Gyoza Sauce.
*We don't fry them in the pan to get a fried bottom, but you can if you want.
**If you want to freeze them, go ahead and steam them for the 8 minutes, and then let them cool. They freeze great!
Gyoza Sauce
1 c. soy sauce
1 c. white vinegar
1 Tbsp. sesame oil
1 HUGE clove garlic, pressed
1 scallion, sliced thin
Combine all ingredients. Take your gyoza for a swim.
Makes (8) 1/4 cup servings, 57.25 calories per serving.
I don't know why, but we drink Squirt soda with the gyoza. My husband says it's because it's similiar to a drink in Taiwan that they serve with them, but who knows? All I know is it works with the dumplings.
**edit - Riana from
Garlic Breath
has a great skin recipe
here
. I haven't attempted it, but I just might.