I'm the queen of over-reducing pan sauces, but I've finally made one that I'm proud of, though I can't claim much credit, as Balsamic vinegar is just another one of those magical ingredients that perks up just about anything it touches - sweet or savory.
Earlier tonight, my mom and sister came over, and I decided to cook dinner. I made
Tilapia
with
Tomatillo Salsa
, vine tomatoes with salt and parsley, and
french green beans
in the style of
Elise's Perfect Asparagus
(minus the parmesan), it was lovely and light, and I didn't even bother to count the calories because it didn't come near my 500 calorie limit, which is probably why I was ravenous at 11 pm. The asparagus got a little over-powered by the vinegar and the peppers, but it was still absolutely heavenly.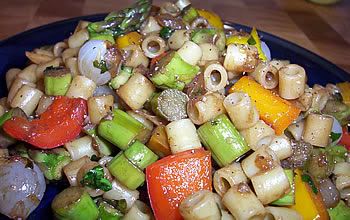 Pasta with Peppers and Asparagus in Balsamic Butter Sauce
110 grams (4 oz) salad macaroni, prepared (420)
1/4 recipe
Marinated Bell Peppers
, chopped (60)
14 stalks asparagus, about 170g. (34)
1/2 med. onion, about 50g. (21)
20-25 small cocktail onions, about 50g. (20)
1 large clove garlic, julienned (10)
zest of 1 lemon
1 tsp. olive oil (40)
1 TB. butter (100)
3 TB. balsamic vinegar (30)
salt and pepper
Chop asparagus into 1/2-inch rounds, making sure to set the tips aside; place rounds in zip-top bag and microwave for 1 minute. Saute the onions (both types) in 1 tsp. olive oil for about 4 minutes; add the peppers and continue sauteing for another 3 minutes; add the garlic and asparagus tips and salt and pepper to taste; saute for 1 minute. Remove vegetables from pan and add 3 TB. balsamic vinegar; simmer for 45 seconds (don't reduce the vinegar too much, it gets too sweet) then add the butter, lemon zest, parsley, and salt and pepper; remove from heat and swirl until butter is melted. Toss the vegetables and pasta with the sauce and serve.
Makes two servings, about
368 calories per serving
.