What a fun night! I joined Vanessa from
She Craves
and Kalyn from
Kalyn's Kitchen
for a Utah Food Bloggers dinner, hosted by Kalyn, who made a lovely dinner, whilst Vanessa brought wine and flowers, and I brought dessert. We had a lot to talk about (everything under the sun, really) and I couldn't have been in better company. Kalyn is lovely (and skinny!), and very warm and welcoming. Vanessa is gorgeous and has a wicked sense of humor. Actually, all the words I just used to describe these two women apply to both of them.
Kalyn's dinner was just so damned good. She prepared:
Curried Chicken on the Grill, with cilantro chutney
A perfect chicken recipe, it was awesome with the cilantro chutney.
Perfect Asparagus
The name doesn't lie.
Brown and Wild Rice with Pine Nuts
So
good!
Arugula and Sweet Mini-Pepper Salad
I hadn't had these mini-peppers, but I'm a convert and will pick some up this week.
She has the recipes linked in her post about the dinner
here
.
I didn't know what I should bring - I have no clue when it comes to wine or cheese or, well, stuff to bring - so we decided on my bringing a dessert. I chose to bring
Mascerated Berries
, but wanted to dress them up a little, so I added lemon juice to the recipe, and used sugar instead of splenda. To top off the berries, I made a Vanilla Mascarpone, which is really very simple: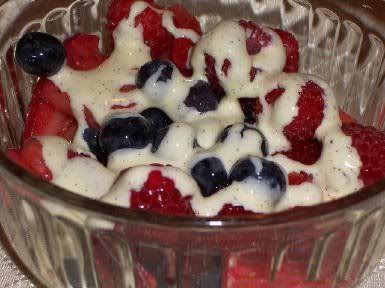 Image courtesy
Kalyn
.
Mascerated Berries with Vanilla MascarponeMascerated Berries
1 package fresh blueberries, washed
1 package fresh raspberries
1 package fresh strawberries, washed and sliced
2 tsp. sugar
1 vanilla bean
2 Tbsp. Vanilla Vodka
1/2 lemon
Seed the vanilla bean and add to a small bowl; pour the vanilla vodka over the seeds and stir to break them up and mobilize them. In a medium bowl, combine strawberries, sugar, vanilla vodka, and the juice of 1/2 lemon. Refrigerate, and add the rest of the berries before serving. If serving right away, gently add the blueberries and raspberries, making sure not to break them up.
Vanilla Mascarpone
1 container Mascarpone cheese
2 vanilla beans, seeded
1 1/2 tsp. honey
In a small bowl, combine the three ingredients. Keep refrigerated.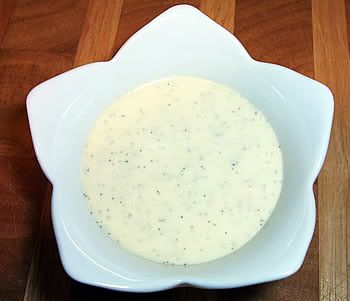 All-in-all, I couldn't have been more impressed with the dinner or with these two fabulous women. There's nothing like being with strong, intelligent, funny people (women, especially) to make you feel like the world may not be in as much trouble as you'd imagined.