I've seen a lot of roasted cauliflower dishes, but this weekend,
Kalyn posted about Roasted Broccoli with Garlic
, so, since I already had a head of cauliflower in the fridge, I thought I'd switch it out and go for a similiar result.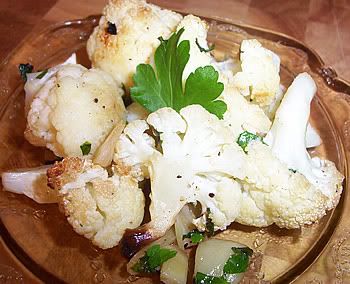 Roasted Garlic Cauliflower
645g. cauliflower (1 medium head, cut into florets) (161.25 calories)
40 g. garlic (7-8 cloves, sliced in half and lightly smashed) (58 calories)
2 Tbsp. olive oil (240 calories)
1 Tbsp. fresh chopped parsley (1 calorie)
1/4 tsp. red pepper flakes
1/2 tsp. kosher salt
1/4 tsp. black pepper
Preheat oven to 425°F. In a small saucepan over medium heat, heat oil and red pepper flakes, add the garlic and gently fry for 1-2 minutes, making sure not to brown the garlic. Place cauliflower on a cookie sheet and pour the garlic and oil, salt, pepper, and 1/2 the parsley over the cauliflower and toss. Bake for 20 minutes, tossing halfway through, or until golden brown and tender.
Makes 6 servings, 76.75 calories per serving.