Last night, I only had about 20 minutes to prepare dinner and eat before we had to be somewhere. I hadn't had anything planned, aside from having thawed tilipa fillets in the fridge, so this was one of those throw-together meals. There are a couple of things I would change, but, for the most part, this was yummy, and only took 10 minutes from start to finish.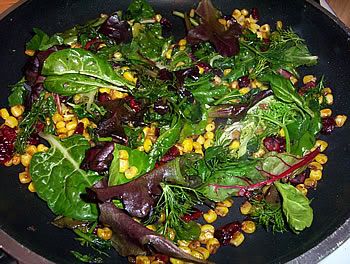 Tilapia with Corn and Greens
2 5-oz tilapia fillets (137.5 ea)
3 TB. dried cranberries (97.5)
1 1/3 c. frozen corn (defrosted, if you have time, I didn't) (200)
2 tsp. olive oil (80)
3 cups assorted greens (70 calories, about)
1/4 c. fresh dill (1)
2 tsp. balsamic vinegar (6)
salt and pepper
Heat the olive oil over medium heat. Season tilapia fillets with salt and pepper, then brown in the oil just until fish is done (3-4 minutes per side). Remove fish from pan to rest; and add the corn and cranberries and warm through. Toss in the greens and dill; drizzle the balsamic over the mixture. Cook for about 1 minute, or until the greens are just wilted. Serve fish with half the greens and a lemon wedge.
Makes 2 servings, 364.75 calories per serving.
There are a couple of things I would change the next time I make this:
1. I wouldn't use bitter greens - they just get more bitter. Spinach would work great.
2. I would try replacing the cranberries (also bitter) with chopped apricots or apples.