Oh, lovely heat. My basil died because I forgot to water it for 1 day, but that's ok, I'm not the biggest basil fan, anyway :)
I'm starting to think that I can't cook without using fresh thyme, it's a sickness, really - most things don't seem complete without it.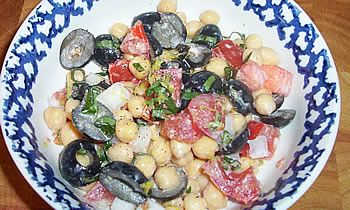 I've been eating a lot of garbanzo beans, lately. I'm generally not all that much in love with beans, aside from green beans, but, for some reason, I love my garbanzos. They're great with a little dressing of ranch and chopped jalapenos, but here's a salad that's got more than 3 ingredients:
Chick Pea Salad
1 can garbanzo beans (chick peas)(385)
2 roma tomatoes, diced (36)
1/2 cup black olives, halved, about 90 g. (150)
1/4 c. chopped vidalia onion, about 45g. (19)
1 TB. mayonnaise (100)
1 tsp. lemon juice (3)
zest of 1/2 lemon
1/4 tsp. garlic powder (3)
1/4 tsp. salt
1/8 tsp. black pepper
2 TB. fresh chopped basil (1)
Combine the mayonnaise, lemon juice and zest, salt, pepper and garlic powder. Pour over the rest of the ingredients and toss to coat.
Makes 4 servings, 174.25 calories per serving.
Cucumber Radish Salad
10-12 med. radishes, about 220g., sliced (36)
1/3 lg. vidalia onion, about 75g., chopped (32)
1 med. English cucumber, about 325g., sliced (50)
1 TB. fresh lemon juice (3)
1 TB. olive oil (120)
1 TB. balsamic vinegar (10)
leaves from 3 sprigs fresh thyme, about 2 tsp. (2)
salt and pepper to taste
Combine and let sit in the refrigerator for 1 hour before serving.
Serves 4, 63.25 calories per serving.
This salad was really, really good, but I don't recommend making it a day ahead - the vegetables lose a bit of their crunch, and the radishes bleed into the rest of the ingredients, as you can see by the picture. This is best served within several hours of making.