On Saturday, a good friend of mine made a fabulous corned beef roast (not that he's updated about it), using, of all things, a pressure cooker. Now, I'm like a lot of other people (said friend included) and am terrified of pressure cookers, which is mainly because of my lack of knowledge. I guess I should quit being a sissy and just buy one - yeah, that's gonna happen.
I didn't take the time to tally the calories on this, but this total meal is not over my 500 calories if you eat about 2 cups of vegetables and don't over-indulge on the gravy.. good luck.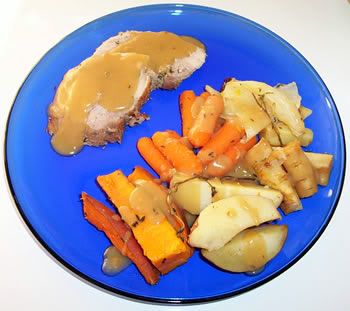 Classic Pork Loin Roast with Root Vegetables and Gravy
1 2-lb pork roast
2 TB. olive oil
5-6 sprigs fresh thyme
1/2 tsp. dried rosemary
salt and pepper
Season the pork roast with salt, pepper, and rosemary. Lay the thyme on the meat, top and bottom, and truss so that the meat keeps it's shape. Brown the meat on all sides in the olive oil, then place the pan in a 350 degree oven for approximately 1 1/2 to 2 hours.
Cut up some potatoes, sweet potatoes, parsnips, carrots and onions, place in a large stock pot with about 2 cups of vegetable broth and several sprigs of thyme; salt and pepper liberally. Bring to a simmer over medium heat and cover. Cook until the vegetables are almost tender. About a half hour before the roast is done, add the vegetables (make sure to reserve the liquid for the gravy) to the pan with the roast and let roast until the meat is finished.
*I don't know exact amounts of what I used, but it was, roughly:
2 med. sweet potatoes
4 lg. red-skinned potatoes
1 huge onion
2 med. parsnips
1 2-lb. bag mini carrots
Remove the meat from the pan, let rest for 15 minutes. Remove the vegetables and reserve any liquid. Add 2 tablespoons butter to the pan drippings, and add about 3 tablespoons flour to make a roux. Pour in the reserved liquid and add as much chicken/pork/vegetable broth as you need to get your gravy to the proper consistency.
Serves 6.
I'll post a couple of my grandma's recipes tomorrow - both are indulgent and definitely not written for calorie counters.