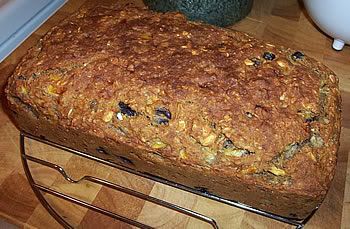 I wanted to make a banana bread that didn't have much fat and had a lot of fiber, so I took my gramma's basic banana bread recipe and then kind of just threw everything in the pantry into it. For a bread that's full of oats and fiber, this was surprisingly moist:
Banana Blueberry Bread
1 c. all purpose flour (400)
1/2 + 1/8 c. whole wheat flour (250)
3/4 c. Grape Nuts cereal (300)
1/2 c. quick cooking rolled oats (150)
1/4 cup ground golden flax seed (160)
1 tsp. baking soda
1/4 tsp. baking powder (1.25)
1/3 tsp. salt
1/4 c. chopped walnuts (196.25)
1 cup fresh blueberries (frozen would work, too) (83)
3/4 c. unsweetened applesauce (75)
1 c. splenda (96)
1 XL egg + 2 egg whites (125)
3 bananas, two mashed, the other mashed, but left chunky, about 1.5 cups (300)
1 tsp. vanilla extract (12)
Preheat oven to 350°F.
Combine dry ingredients, toss blueberries and walnuts so they get coated in flour. In a separate bowl, Combine splenda and applesauce, whisk in the eggs and vanilla, then stir in the banana.
Add the dry mixture to the wet mixture and stir, just until combined and
moistened. Pour (more like dump) the batter into a 9x5 inch silicone loaf pan.
Bake for 65 minutes. Remove from oven and cool for 10 minutes before removing from pan and cooling on a wire rack.
Makes (12) servings, 179 calories and 4 grams of fiber per slice.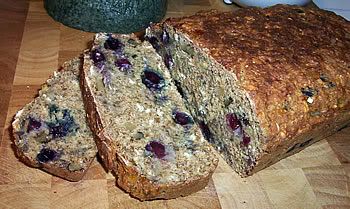 *This was pretty sweet, it could use a 1/4 cup less splenda, honey would be a good option, too, but it's got calories that splenda doesn't. We loved this, I was glad it didn't have an overwhelming
healthful
flavor.
*Next time, I'll probably throw in an extra 1/4 cup of flax seed and another egg white.