Swedish Meatballs is another one of those comfort foods from my childhood. It's the only food that I can remember my older brother actually cooking and not just microwaving, and it's one I've never cooked for my husband because I've been on a red meat hiatus for about... 8 years? I've never had Swedish Meatballs when they weren't made from this seasoning packet, but I can imagine a "real" recipe would taste incredible.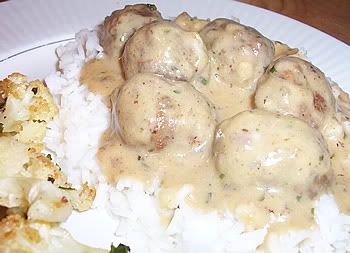 Swedish Meatballs with Rice
1 x McCormick Swedish Meatball Seasoning & Sauce Mix (270)
1 lb. lean ground beef (4% fat) (600 calories)
2 cups Skim Milk (180 calories)
2 tsps. Oil (80 calories)
1/3 c. water
1 cup rice (prepared makes 4 1/2 c. servings) (400 calories)
Prepare in a nonstick skillet, according to package directions, with modified oil amount. Serve with 1/2 cup. rice (100 calories).
Makes 4 servings, 382.5 calories per serving. If serving with
Roasted Garlic Cauliflower
, add 76.75 calories per serving.