Salmon, or fish in general, is one of those foods that I didn't eat as a child, so I was weary of it. Around age 22, after reading about all of the good fats in salmon (and things like olive oil and avocados), I decided I would
make
myself like fish. It took a year, or so, before I didn't need my fish smothered in lemon juice, though I still prefer it with citrus.
This was the first time I've tried a salsa verde, or anything with tomatillos, I wasn't expecting them to be so sticky underneath their paper casing. What a treat this salsa is! I'm so used to having my salmon with salt and lemon, this was a great retreat from that.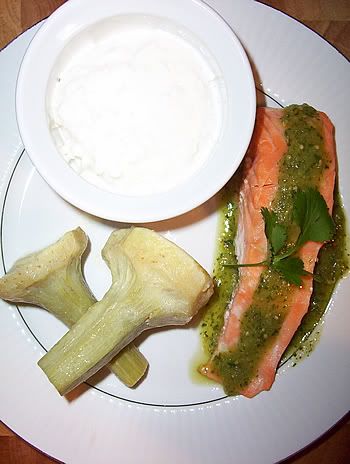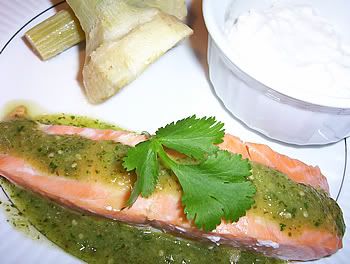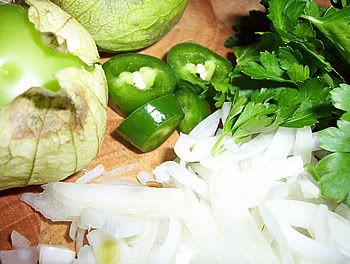 Salmon with Tomatillo Salsa, Artichokes with Lemon, and Non-fat Cottage Cheese
1 serving, 340 calories.
Salmon with Tomatillo Salsa, Artichokes with Lemon, and Non-fat Cottage Cheese Recipe
I looked all over online and found loads of recipes for a salsa verde, so I combined aspects of all the recipes and came up with this:
Tomatillo Salsa
2 medium tomatillos
1/4-1/2 jalapeno (depending on how hot you like it)
1/4 onion
1 fat garlic clove
1 palm-full fresh parsley
1 palm-full fresh cilantro
Juice of 1 lime
Salt and Pepper to taste
Cook the tomatillos, garlic, and onion, in boiling water for about 10 minutes. Remove veggies from water and cool. Combine all ingredients in a food processor or blender and puree until nearly smooth, a little chunk is nice.
Salmon
1 3.5 oz. salmon fillet
juice from 1/2 lime (optional)
salt to taste
Preheat oven to 350, salt fillet on both sides, place in baking dish and squeeze the lime over the top. Bake for 8-15 minutes, depending on how you like your fish cooked. Top with Tomatillo salsa.
Artichokes
2 medium artichokes
juice from one lemon
salt
Remove leaves and choke, peel stem, leaving only edible bits of the artichoke. Boil for 10-15 minutes in water with the juice of one lemon and a tablespoon of sea salt. Serve with a squeeze of lemon juice, or lemon butter (1 part lemon juice to 4 parts butter). Lemon butter has about 70 calories per tablespoon.
Serve with 1/2 cup. non-fat cottage cheese