Because I'm on a low-calorie diet, I haven't even considered eating sweets, but today, my sweet tooth got the best of me. I decided on shortbread cookies because they're easy and classic, but my husband is a bit of a ginger fanatic, so, I had lemons and ginger on hand, and I love them both enough to just throw them both in.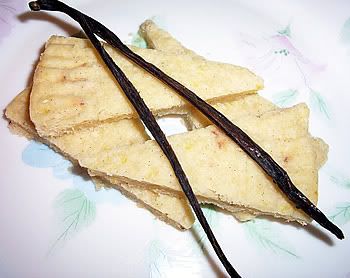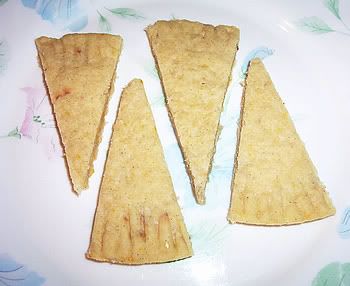 Lemon Zest and Ginger Shortbread Cookies
1 C. Flour (125g) (455 calories)
1 stick butter (800 calories)
1/3 cup. powdered sugar (40g) (156 calories)
1/4 tsp. fresh grated ginger
1 tsp. fresh grated lemon zest
1/2 tsp. vanilla extract
Seeds of 1 vanilla bean
Preheat oven to 300°F. In a medium bowl, cream butter with the grated ginger, vanilla extract, vanilla seeds, and lemon zest. Add the flour and the sugar just until combined.
Lightly pack the mixture into an 8-inch springform pan. Crimp around the edge with floured fork tines, and bake for about 30 minutes, or until lightly golden. Remove from oven and quickly, but gently, cut into 12 wedges, then leave in pan to cool completely. Loosen edges of cookies from the pan, and release the pan round. Remove wedges... and enjoy!
Makes 12 cookies, about 118 calories each.