As far as my tomato obsession goes, I can usually hold myself over until late summer, when my grandma gets her first crop of the world's most perfect vine ripened goodness. I can usually open a bottle of last season's tomatoes and be perfectly content with the next-to-best thing. Usually being the key term. For the past few weeks, I've been unable to fight off the craving for fresh tomatoes, thankfully my grocery store has some surprisingly summery tomatoes, even if they are $5.00/pint. I'm finding that, if I eat fresh tomatoes with my meal, I'm far less likely to crave any of the sugary things that I love so much.
Dinner for 2/12: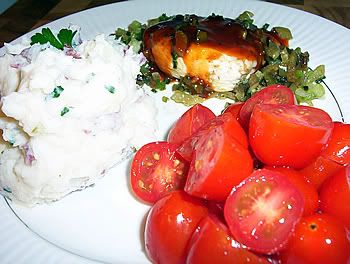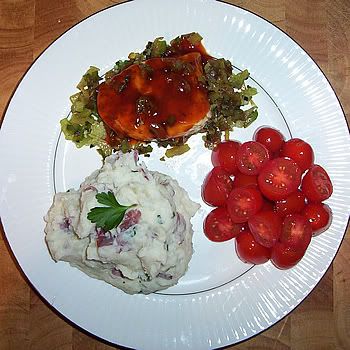 Baked chicken with barbeque sauce, mixed vegetables, parmesan mashed potatoes, and tomatoes.
Recipe makes 2 servings, 423.5 calories per serving.
Baked BBQ Chicken with Low Calorie Parmesan Mashed PotatoesParmesan Mashed Potatoes
350 grams potatoes
5 tb. nonfat sour cream
1/4 cup. lowfat milk
10 g. shredded parmesan
fresh parsley
salt and pepper to taste
Boil potatoes until tender (start on the chicken dish, they will be finished around the same time), then drain, mash and mix in remaining ingredients. Makes 2 servings, 205.75 calories per serving.
Chicken with Veggies and Barbeque Sauce
60 grams celery
36 grams green bell pepper
33 grams onion
7 grams jalapeno (roughly half of one)
1/2 tsp. olive oil
salt and pepper to taste
(2) 3.5 oz. chicken breasts, sprinkled with salt and pepper (should be around 3 oz. when finished cooking)
1 Tbsp. balsamic vinegar
2 Tbsp. Tony Roma's Original Barbeque sauce
Preheat oven to 350° F. Chop all vegetables, saute in 1/2 tsp. olive oil, move veggies to the outer rim of the pan and place the seasoned chicken breasts into the center of the pan and brown on each side. Move sauteed vegetables onto a piece of foil, place chicken breasts on top, and drizzle with the balsamic vinegar. Fold foil into a packet, making sure to get a good seal, and place in oven for 7-10 minutes. Remove chicken, plate, and add 1 tbsp. barbeque sauce over each breast. Makes 2 servings, 195.25 calories per serving.
Salted Tomatoes
Slice 250 grams grape tomatoes, sprinkle with salt, and serve. Makes 2 servings, 22.5 calories per serving.