Dinner for 2/7: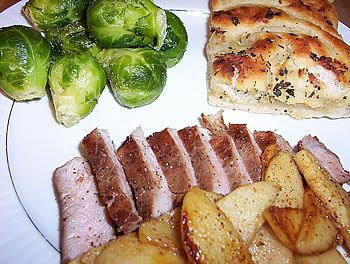 Soy Marinated Pork Loin Chop with Apples, Brussel Sprouts and Focaccia.
1 Serving, 343 calories.
This has to be the easiest way to cook a pork chop. Marinate it in soy sauce and sliced garlic (anywhere from ten minutes to two hours) place it on a cooking rack (I use a small bake rack on top of a foil-lined cookie sheet), grind lots of pepper over the top and place under the broiler.