Dinner for 2/9: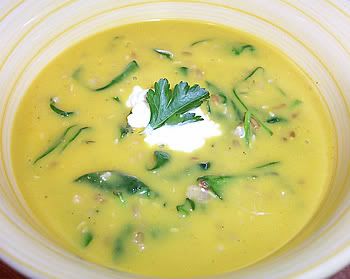 Butternut Squash Soup with spinach and 7 whole grain pilaf.
Makes (2) 1.25 c. servings, 189 calories per serving.
I used a store-bought soup and dressed it up with fresh thyme, spinach and whole grains. The soup was a bit on the sweet side, and had cinnamon in it, which I don't love, but it was pretty darned tasty in that... oh this is healthy, so I can ignore the fact that
it doesn't taste GOOD
... sort of way.
Low Calorie Butternut Squash Soup Recipe
1 Box Pacific Brand Butternut Squash Soup (2 c.)
1 c. fresh spinach
1 pinch fresh thyme
1/2 c. Kashi Brand 7 Whole Grain Pilaf, prepared
Salt to taste
Pepper to taste