I don't know exactly why these are called Mormon Muffins (a friend suggested that it's because there's one boy muffin and a dozen girl muffins), but, since I live in Utah, I can take a guess. My grandma has been making these muffins for years, and I've always loved them. They taste great, not overly sweet, and are perfect for breakfast with a banana or a pear.
I halved the original recipe and added ground flax seed, replaced the majority of the sugar with splenda, replaced some of the flour with whole wheat flour, and used applesauce instead of shortening.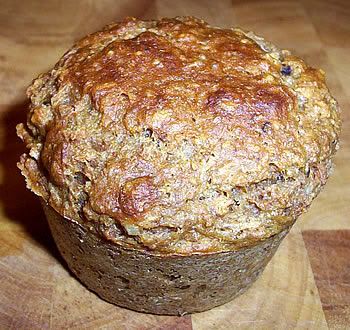 Mormon Muffins
1 c. boiling water
2 1/2 tsp. baking soda
1 1/2 c. all-purpose flour (600)
1 c. whole wheat flour (400)
1/2 c. applesauce (50)
1/2 c. splenda (48)
1/4 c. sugar (192.5)
2 extra large eggs (170)
2 c. buttermilk (200)
1/2 tsp. salt
2 c. Grape-Nuts (bran buds) (800)
1 c. Grape-Nuts flakes (bran flakes) (147)
1/2 c. chopped walnuts (500)
1/2 c. ground golden flax seed (240)
Preheat the oven to 350 degrees Add the baking soda to 1 cup of boiling water; set aside to cool. Whisk together the applesauce, salt, sugar and splenda, then whisk in the eggs, 1 at a time, followed by the buttermilk, then flour; mix well. Fold in the bran cereals and walnuts.
Very lightly spray silicone muffin pans with cooking spray, then fill each mold to the top with the batter mixture. Bake for 25 minutes, or until the mixture no longer looks moist. Allow to cool in the pans for 5 minutes, then pop out and let cool completely before storing. These freeze really well.
Makes 15 muffins, about 224 calories per muffin.
Original recipe:
Mormon Muffin Mix

2 C. boiling water
1 tbsp. + 2 tsps. Baking soda
1 c. crisco shortening
2 c. sugar
4 eggs
1 quart buttermilk
5 c. flour
1 tsp. Salt
4 c. 100% Bran Buds
2 c. 40% Bran Flakes
1 c. chopped walnuts
Dried fruit, if your desire

Add soda to hot water and let cool. Whip shortening and sugar until light and fluffy. Add the eggs slowly. Mix well. Add the buttermilk and flour; mix well; slowly stir in the soda water. Fold the two bran cereals into the mixture very slowly with the chopped walnuts. Spoon into greased muffin tins.

Bake at 350 degrees for 18 minutes. Let cool for 5 minutes, then remove to cool completely.
**If you're using regular pans, the cooking time will probably be less - these silicone pans seem to hold the moisture in, a bit.