Getting back to food blogging...
I've made several lasagnas over the years, always trying something different, but the best reviews I get are when I add too much salt to the sauce, and not quite enough to the other elements. There's something about the salty sauce that makes up for the salt missing in the other areas, and it's great.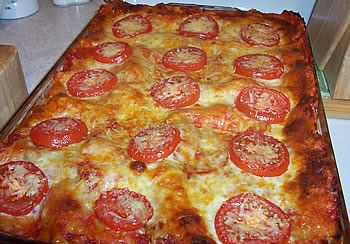 Basic Lasagna with Turkey and Mushrooms
1 26-oz. jar tomato sauce (540)
1 c. canned tomatoes (53)
1/2 c. tomato paste (120)
15 lasagna noodles, cooked according to package directions (1260)
1 large (about 325 g.) vidalia onion, chopped (136)
1 8-oz. package fresh mushrooms, rinsed and roughly chopped (57)
1 TB. + 1 tsp. fresh thyme, divided
4 cloves garlic, chopped (16)
1 TB. olive oil (120)
1 1/4 lbs lean ground turkey (1100)
1 30-oz. container part-skim ricotta (1120)
1 c. (50g.) (1/3 reduced fat) sharp cheddar (160)
1 c. parmesan (400)
1 1/2 c. (1/3 reduced fat) mozzarella (480)
1 jumbo egg + 1 egg white (116)
3 roma tomatoes, sliced into 15 slices (45)
1/2 tsp. red pepper flakes
salt and pepper
Preheat oven to 350. Add the tomato sauce and canned tomatoes to a sauce pan over medium-low heat, stir occasionally while preparing the other elements. Salt to taste.
Saute the onion and red pepper flakes in the oil over medium-low heat until translucent; add the mushrooms, garlic, 1 tablespoon thyme and salt and pepper to taste. Turn the heat up to just above medium and continue cooking until the liquid from the mushrooms has evaporated. Add the ground turkey and mix thoroughly, cook through; add the tomato paste, mix thoroughly and cook for another minute, or so. Remove from heat.
Whisk together the cheddar, ricotta, eggs and the last teaspoon of thyme, and plenty of black pepper.
To assemble: Spread 1 cup of the sauce on the bottom of a 9x13" pan, then lay 5 noodles out over the sauce, top with half the meat mixture, then spread half the ricotta mixture over the meat, then sprinkle on 1/2 cup grated parmesan. Spread 1 more cup of sauce over the parmesan, then lay on another 5 noodles, followed by the meat, ricotta and then sauce. Top with the last 5 noodles, then the last cup of sauce, then sprinkle the mozzarella and the other half-cup of parmesan. Add 3 rows of 5 tomato slices, so each serving has a slice in the middle.
Bake for 50 minutes, or until golden brown and bubbly.
Makes 15 servings, 382 calories per serving.
This lasagna cuts very well, but if you like really saucy lasagnas, then you should serve this with a little extra sauce on the side. Serve with a small salad to make a great, lower calorie meal :)