Another recipe from my grandma's cut-outs. This is really decadent and a little bit of a stretch, crust-wise, but it is delicious and really fun to eat. The toasted coconut gives a real crunch, and I'm all about marshmallows, so this is great for me :D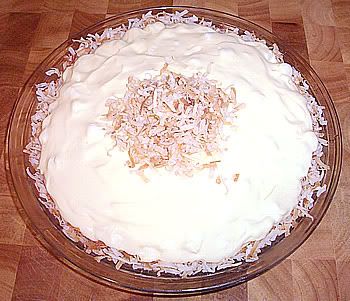 Banana Mallow Pie
2 c. shredded coconut
1/3 c. margarine, melted
1 3.4oz. pkg vanilla pudding
1/2 c. cream, whipped
1 1/2 c. miniature marshmallows (or 15 lg.)
2 bananas, sliced
Combine coconut and margarine in a skillet. Cook over low heat, stirring frequently, until coconut is toasted and golden brown. Press into a 9" pie plate to form crust; chill.
Prepare pudding mix as directed, but using 1 3/4 cups milk. Cover with wax paper and chill. When the pudding is fully chilled, fold in whipped cream and cut the marshmallows into the mixture using scissors that have been dipped in cold water.
When the crust is chilled, place the sliced bananas all over the coconut, forming a
single layer. Pour the pudding mixture over the bananas and chill for several hours before serving.