I've been lucky enough to have both of my grandmas around until just recently, when my grandma on my father's side passed away... so now that I'm writing up her recipes, I'll be posting more foods that aren't really diet conscious, so bear with me.
This recipe was never written down, but my mom has made it for as long as I can remember, so here's her version of Grandma's recipe: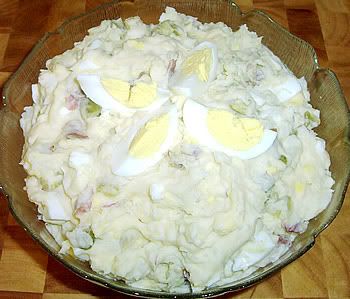 German Potato Salad
10-12 russet potatoes, peeled and cut into chunks
1 c. chopped dill pickles
Thanks to my sis for pointing out my accidental omission of the pickles)
3-4 TB. minced onion
6-8 hard boiled eggs, roughly chopped
1 1/2 - 2 c. Miracle Whip salad dressing
Add the potatoes to a large pot and add just enough water to cover. Bring to a gentle boil and cook until tender enough to mash, but do not mash; turn off the burner. Drain the potatoes well and return to the pan; place the pan back on the burner, but do not turn the burner on; let sit for 5 minutes (this ensures the potatoes are dry enough to absorb the dressing). Add the onions, pickles and Miracle Whip to the potatoes and stir until combined, then stir in the eggs. Serve warm.
*In the picture I posted, I used red-skinned potatoes and left the skins on, cos I love them. I also didn't boil the potatoes down as much, and I added a little more onion.